Blog
Women behind the wheel in Afghanistan
28 April 2016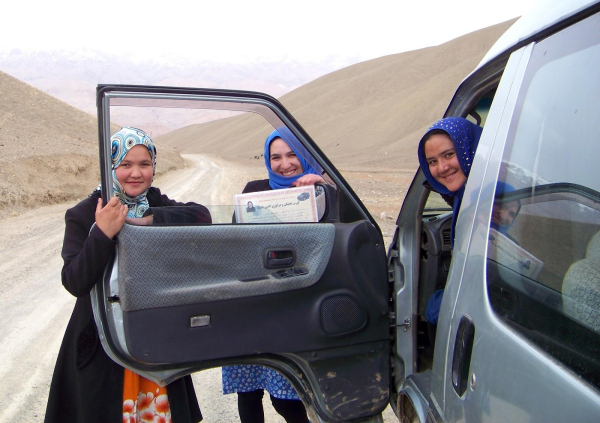 Members of a female-led beekeeping cooperative in Bamyan Province have taken an important step towards independent operations by gaining their driver's licenses.
The cooperative's apiaries were established in 2014 with help from Prime Consulting International Ltd's Beekeeping Education Empowerment Sustainability (BEES) project, as part of Prime's wider Agricultural Support Programme (ASP). The BEES project aims to diversify incomes and provide improved nutrition for households and additional employment opportunities for women and households with little or no land.
"All the beekeepers in the communities are female, they cannot always talk to strange men, but if I go there it is no problem and I can talk to them and buy their honey and give support."
​- Mastorah, KBC assistant.
The Katakhana Beekeeping Cooperative (KBC) supports more than 200 rural women operating small-scale apiaries, with a total 270 beehives, across Yakawlang and Bamyan Districts. It has an office at the Department of Agriculture, Irrigation and Livestock's veterinary clinic in Yakawlang as well as a honey and wax extraction centre used as a site for buying and selling honey. The cooperative markets the honey its members produce and provides essential beekeeping equipment, materials and training services.
The KBC owns a Toyota van but until recently none of its members, aside from the cooperative's sole male board member, had a licence to drive. Prime and the Linda Norgrove Foundation funded the van, as well as driving courses and license tests for three women to ensure the longevity of the BEES project. Mastorah Jafari, a KBC assistant, and another member received their driving licenses in March this year - a significant achievement in Afghanistan's highly patriarchal society. Another member of the KBC will receive her license once she turns 18.
"I am happy that I got my driver's license because I am not dependent on any man when I want to drive. In Yakawlang, where I am from, no woman knows how to drive, but now I can do it and I am proud of that."
- Saida, KBC cashier.
Milou Groenenberg, an associate consultant at Prime, says many of the beekeepers live remotely and don't have their own means of transport to the Yakawlang centre to get supplies or for honey sales. Having members able to drive has increased the KBC's autonomy and reduced costs from transport hire. "For me personally, driving also feels like a form of independence and freedom. I hope it does for the women here too."
It was forbidden for females to drive during Taliban rule, from 1996 to 2001, but women behind the wheel are an increasingly common sight. According to the Director of Traffic in Bamyan Province, of 1500 people who are awarded their driving licenses each year, about five per cent are female.