Blog
UAE food security and Covid-19: Building resilience in the red meat sector
5 May 2020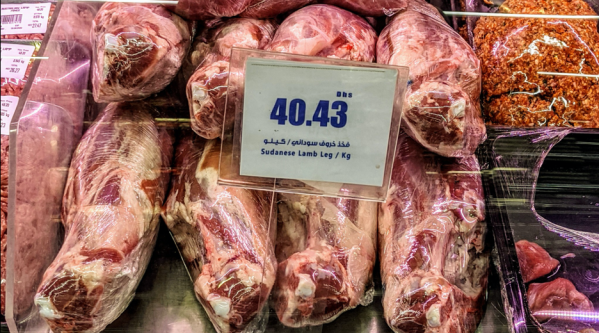 As movement restrictions begin to ease in the UAE, the impact of Covid-19 continues to ripple through the food sector. The meat sector in the UAE is not immune. Despite being relatively sheltered from impacts on the production side, the effects of Covid-19 can still be seen in reduced demand, shifting consumption patterns, reduced availability and high importation costs. Prime teamed up with Dubai-based SOMA MATER to highlight the steps the UAE can take to not only meet those challenges but to build greater resilience in the red meat sector.
Right: Sudanese red meat has covered gaps left in the UAE market by severely reduced exports from India in April 2020.
Global Market Challenges
Demand-Side Shifts
Across the globe, the red meat sector has seen a significant reduction in demand as a result of hotel and restaurant closures. In the United States, for example, restaurant revenue is down by an average of 76% (7 day total) compared to the week of 02 February 2020, despite minimal restrictions at the federal level, and widely varied lockdowns at the state level. There has also been a significant shift in the type of meat cuts demanded by consumers at the retail level.
A radical shift towards increased consumption of minced beef in the UK has left an excess of other cuts, such as steak and hind quarter, that processors cannot sell on. Even if it is frozen, or retailers buy these other cuts to sell on promotion, it will be at a lower price that makes it unprofitable to continue processing, unless the price of livestock is reduced. "In this scenario, the problem will end up at the farm gate, with farmers struggling to sell their animals at a price that covers their costs," the British Meat Processors Association has warned. This may present a real challenge for those local dairy firms who rely on veal sales as an important revenue stream.
In the UAE, we have seen a whopping 35% reduction in Dubai's red meat imports in April when compared to the previous 3-month's average. A significant portion of that reduction can be attributed to the HORECA sector grinding to a halt, and we continue to monitor the impact a gradual reopening of HORECA during Ramadan will have on imports. There is, however, a number of supply-side circumstances that also play into import declines. Together, these impacts might be expected to reduce the retail price for consumers however, continued logistical constraints (especially in key meat export markets such as India and Brazil) and increased shipping costs between point of origin and the UAE as a result of reduced air freight capacity likely erode any retailer savings made on farm gate costs.
Supply-Side Bottlenecks
Last week a memorandum signed by G20 agriculture ministers reaffirmed "the importance of working to ensure the continued flow of food, products, and inputs essential for agricultural and food production across borders". What is clear is that there are no shortages in the global food system as a whole, but relatively small hiccups in one part of the supply chain are having an outsized effect on both physical and economic accessibility.
On-going bottlenecks in the global logistics network continue to affect the availability of meat with Australasia, India and South America most greatly affected. This has created a localized relative demand increase and retailers price accordingly. In the UAE, red meat imports from India into Dubai dropped nearly 85% in the month of April as mutton exports from the South Asian country dried up due to supply chain interruptions and reduced manpower during the ongoing lockdown.
Countries like Pakistan and Sudan have been quick to fill in the gaps left behind in remaining demand in the Emirate of Dubai, with both countries posting an estimated 7% increase in red meat exports compared to their three month average
In the US last week, major meat processor Tyson Foods had to halt operations completely after 182 workers tested positive and the more recent outbreak in a JBS USA facility in Texas with at least 152 confirmed cases and one death. A total of 13 meat processing plants have shut down over the past two months, creating major disruption to the entire US meat supply chain.
How Government Can Respond
Considered consumer awareness
To meet these challenges the UAE must transparently prepare the population for shifting product availability in the market. The shelves may not be empty, but there will certainly continue to be periods where availability of certain products is severely reduced. The UAE's Food Security Office should be tasked with undertaking a largescale and persistent consumer awareness campaign to prepare consumers for upcoming shortages in particular products by highlighting available alternatives and how they may be incorporated into preferred dishes.
Some changes may be simple swaps of rice varieties, from Basmati to Sella for example, but more innovative replacements should be considered such as replacing rice with quinoa (a high-protein grain that is particularly well suited for local production in the UAE) that can also offset the amount of animal protein in popular local dishes like machboos or biryani, even if deeply entrenched cultural norms may prove particularly enduring.
There are captivating, and timely, narratives to be found in the UAE's rich agricultural history. Rather than dismissing dietary shifts in times of crisis as an erosion of tradition, they can, and should, be framed as embracing our heritage and marking another step towards the green vision of the late Sheikh Zayed.
Rethinking logistics
Simultaneously, the government should work with meat-producing countries to better enable more efficient freight options. By adopting a collaborative approach that matches predictive demand-side information with potential suppliers, products can then be aggregated at the supply side to allow for cost-effective and timely transportation. This can also be expanded beyond red meat to include a range of food products that rely on cold chain logistics.
The UAE government is almost certainly looking at how to better build predictive demand-side data as its foundation for more ambitious centralization and automation efforts for procuring and distributing critical & perishable foodstuffs. Red meat alone represents four of the retail food products deemed "essential" by the UAE but nearly 50% of that list consists of perishable products requiring similar cold chains.
Yet solutions already exist in the market.
Seafood Souq is a UAE company that is working on driving transparency and efficiency into the seafood market - their operating model as well as their electronic product tracing backend (SFS Trace) could be a pivotal building block for UAE efforts in coordinating the logistics of perishable foods.
Sean Dennis, Founder and CEO of Seafood Souq believes that, "we must support digitalization of global supply chains to maintain agility and provide transparency" and that a key component to ensuring insulation from future global supply shocks includes a "focus on sustainable food sources regionally".
Adaptable production
Finally, what should happen if a major retailer like Carrefour or a production firm such as Al Rawabi suffers a major outbreak amongst staff? At the production level, ministry of health officials can provide instruction on protocols to protect widespread outbreak at production and food processing facilities and firms should look towards isolating workers in shifts to ensure that if an outbreak were to occur amongst one shift, other shifts would be unaffected thereby ensuring continuity in production.
Longer term, the government should encourage the local private sector to expand livestock production holdings both in the UAE and abroad. Production numbers and capabilities should be recorded in a centrally held database. In the event of future supply disruptions, greater capacity can be called upon and the purchasing power of a unified and transparent system can greatly reduce the need for unnecessary stockpiling by the government in times of crisis.
With increased livestock, however, comes increased demand for feed and fodder requiring yet another supply chain.
Hussam Sarhan, the Director of Commercial Operations and acting Executive Director of Trans Emirates Livestock, suggests, "rather than shipping fodder or fodder ingredients from all around the world, you may build a livestock stock in a suitable country where feed is available and weather is good for growing the animals, then, you can move this stock to the UAE within 12 days which is within the 21 days food security backup. At the same time, it is easier to circulate the stock around the world whenever it is required".
Ensuring that sufficient stocks are available within a 12 day shipping zone, however, requires far more agile government regulation that can allow access to the UAE market from critical ports. Deeper coordination with local producers and red meat suppliers across all relevant government entities is needed to understand the private sector's pain points and coordinate solutions.
Additionally, opportunities for greater diversification of offerings should be explored at the premium end of the market. Locally raised animals coupled with transparent storytelling could feasibly see local "Naimi" outcompete Australian lamb.
Emirates Bio Farm and others in the horticultural sector have already shown it is possible for local products to become a trusted quality brand and achieve premium pricing because consumers know their farmers' stories, can visit the farms, and see them within the community. This powerful narrative of trust and transparency can, and should, easily translate into the the red meat sector.
When looking at the challenges posed by COVID-19 on global food systems, it is abundantly clear that global production remains plentiful, but pockets of scarcity are easily created when supply chains break down.
The UAE stands at yet another crossroads in its journey towards greater food security, and the red meat sector provides tremendous opportunity for enhanced resilience. It is also worth concluding with a reminder that the GCC as a bloc already has many of the necessary mechanisms in place to create an even stronger network of resilient food systems in the region, and the UAE has proven itself to have the know-how and leadership to unlock that potential once again.
About SOMA MATER
SOMA MATER is a food security and policy advisory based in Dubai. Founded by Policy Strategist and Data Analyst Greg Ohannessian, it aims to create radical transparency across every aspect of the UAE food system through education and consumer awareness. Driven by data and a community-first approach, SOMA MATER facilitates conversations that support its three central pillars: Empowering Local Producers, Supporting Sustainable Importers and Informing Critical Policy Makers.
Visit their LinkedIn page here.
About Prime Consulting International
Prime Consulting International is a professional consulting group offering specialised services to an international market. Headquartered in New Zealand, we have subsidiaries and representative offices in Australia, Fiji, Malaysia, the United Arab Emirates, Afghanistan, Zambia and the United States of America.
Our work incorporates assignments for governments, industry bodies and large corporates, through to small and medium sized private enterprises. We have core technical competencies in the agri-business and food, renewable energy and water sectors along with proven expertise in project and programme management.
Visit our LinkedIn page here.