Blog
Janine Price - Waste Warrior
23 February 2016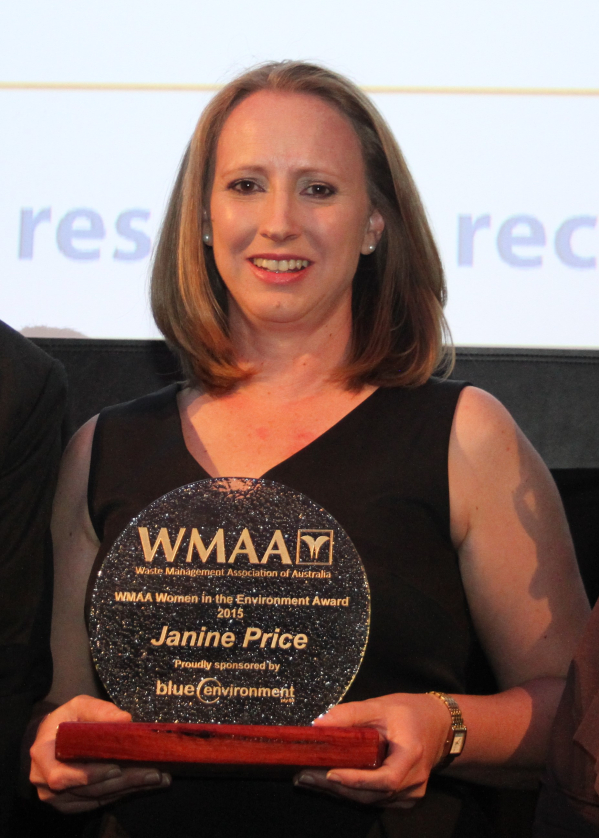 Janine Price has been Manager - Environment at Australian Pork Limited (APL) for more than six years. In 2012, she was the key industry contact for Prime Consulting International Ltd in developing the Australian Code of Practice for On-Farm Biogas Production and Use (Piggeries) 2015. Last year, Janine was honoured by the Waste Management Association of Australia (WMAA) with its national Women in the Environment Award, recognising those who have made a significant contribution to environmental sustainability in Australia. Janine spoke to Prime about her background, practical environmentalism, exciting projects on the go and how she earned the title "Poo Princess".
What did you study at university?
I did a Bachelor of Applied Science with a major in Environmental Science and Microbiology/Biotechnology. I remember going through the various majors and my Mum saying, "I think environmental science could be quite big in the future", not knowing how big it was going to get. That was over 20 years ago and it wasn't something at the top of everyone's mind. There were five to eight people in some of our classes.
How did you get involved in waste management?
I started off working in the dairy industry in Victoria doing research projects for the Department of Primary Industries (DPI). My first role was as a technical officer working on supplementary feeding. In 1995, I moved into my passion - environmental science. It just happened to be designing dairy effluent ponds as a dairy extension effluent officer. I've been working with waste and nutrients ever since. It has become a big passion, landing me with some interesting nicknames over the years: Moo Poo Guru, Poo Princess, S*** Queen.
What other roles did you have before joining APL as Manager - Environment in 2009?
I was a nutrient management extension officer at DPI in Victoria for a number of years, working with the dairy and beef grazing industries, and a Catchment Committee Officer at the Port Phillip and Westernport Catchment Management Authority. In 2005, I moved to the Environment Protection Authority (EPA), where I was their intensive animal industry officer. I worked on a whole range of policy issues and with various animal industries. A big part of the role was liaising between the Government, producers, industry and the community. I also had a big focus on waste management and odour.
Can you tell us a bit more about your work at APL?
I'm part of APL's research and innovation team, working on the environmental side of things. Other people in our team look at reproduction, food safety, biosecurity and tech transfer. My role includes working with the industry to set research priorities, commission and manage research projects and provide advice to producers and the Government on a wide range of environmental issues, such as changing production systems and new and emerging technologies such as biogas and alternative fertilisers. I work quite closely with our policy team as well.
What is a major focus at the moment?
At the moment a big part of my role is helping to make sure new and expanding farms are sited, designed and managed appropriately and that they are being assessed using the latest science that underpins our best management practices. I am programme manager for two cross-sectoral national research programmes - the National Agricultural Manure Management Program (NAMMP) and Waste to Revenues: Novel Fertilisers and Feeds. I'm also involved with a carbon neutral pork programme as part of the Cooperative Research Centre for High Integrity Australian Pork, which has a strong focus on biogas capture and use.
Is the pork industry growing in Australia?
There is a lot of interest in expanding and putting on new farms. We've got growth in regards to outdoor production as well. Producers are designing their farms in line with our National Environmental Guidelines for Piggeries, using new practices and technologies.
Can you us about APL's involvement with biogas?
We have an industry goal of 1 kilogram of CO2 per kilo of pork produced and key to that is the biogas systems that we've developed. Our involvement with biogas really kicked off after a visit to a low cost technology farm in New Zealand. We worked with Stephan Heubeck from the National Institute of Water and Atmospheric Research (NIWA) to develop a plan of attack and then we set up the Bioenergy Support Program at the University of Queensland, which has helped producers develop those systems. We currently have nearly 36,000 sows under biogas, which has the potential to save about $6 million dollars worth of electricity a year and is the equivalent of getting 6300 houses off the grid.
Where does the Australian Code of Practice for On-Farm Biogas Production and Use (Piggeries) 2015 that Prime developed fit in all this?
When we first identified that biogas was a good technology to follow through with, there wasn't a lot of information out there. We asked Prime to do an initial review of the different regulations across Australia and that came back, as we expected, that many people weren't aware of biogas and most regulators didn't have any regulations in place. From that review, we decided to contract Prime to develop the Australian Code of Practice for On-Farm Biogas production and Use (Piggeries) 2015. We didn't want to have our producers put at risk unnecessarily by not doing the right thing by the law or by putting themselves in danger because biogas can be quite a dangerous gas.
What did regulators think of it?
We got some great feedback and input from regulators in Australia, as well as New Zealand stakeholders, who were undertaking a review of the New Zealand biogas code at the same time. There was an extensive consultation phase and the code changed considerably after five different gas regulators had input. The Australian Code of Practice for On-Farm Biogas production and Use (Piggeries) 2015 was the first biogas code for an industry developed in Australia, which is a really good achievement. We're now in negotiations with a couple of gas regulators to potentially incorporate that biogas code into state regulation as a preferred requirement. That would be a really big win for our producers.
So biogas remains a major focus?
Yes, it's very busy. That's why we had to set up the Bioenergy Support Program based out of the University of Queensland and now also the Queensland Department of Agriculture and Fisheries. We were just getting so much interest and a lot of technical questions. Interested producers now go to the Bioenergy Support Program to discuss the potential feasibility of their site, suppliers and for any other technical questions they may have. The researchers involved in the programme are experts and leaders in waste management and bioenergy. We are extremely lucky and privileged to have them involved with the pork industry.
How have attitudes to the environment changed during your career?
When I first got into environmental science within the dairy industry you would be given the opportunity to talk at different workshops and forums but because the environment was not seen as important, we were always given 10 minutes at the end when everybody was packing up, ready to go home and milk their cows. Now we are holding full workshops and get enquiries relating to all aspects of environmental management from planning to waste management.
Was it challenging to get through to people early on?
You couldn't just go in and say, "Well if you plant trees in this spot you are going to get birds and butterflies and everyone is going to be happy". I would always look for the multiple benefits in a practice and relate it to both productivity, profitability and environment. By doing this you were likely to gain the interest of someone who was purely focused on productivity with the added bonus of environmental benefits.
So that style of communication became quite important?
Yes, it's about sharing the message with producers that they are going to get multiple benefits - production, productivity, economic and environmental.
I guess what you are talking about is practical environmentalism.
I've been called a practical greeny before, which is exactly the same thing. I believe that we have to have industries, we have to have animal industries and we have to have progress, but at the same time we have an obligation to do it in the best way that we can with the best science. It's pointless coming up with management practices and technologies that are not practical and economic from a producer's point of view.
What are the biggest changes you've noticed in regards to waste management, specifically?
I've noticed that we are getting increasing enquiries from people wanting to know how to reuse effluent or spent bedding, compost solids or mortalities and use waste to create energy. Last year we released national manure guidelines because we were just getting so much interest from producers about how to actually handle their waste and utilise it. Due to producer demand we've had to design our biogas systems with extraction ports so they can actually use their nutrients on their crops. We get a lot of enquiries about how can they get the best value out of their nutrients so we've developed nutrient calculators. Producers can now calculate what dollar value they are getting in terms of fertilisers so they are all quite keen to work that out. They also keep asking us, "How can we make the product easier for the end users?" Ten years ago nobody really thought about what they did with waste or its value. They put it in a pond and evaporated it or spread it without really thinking about it.
Is this interest from producers driving some of APL's research?
Yes, producers are driving us to look at some really interesting aspects of waste management that we hadn't examined before. We are using metagenomics to look at soil microbes to see what effect manure is having on the soil and we are actually finding that if you use an organic manure on the soil, the microbes more naturally mimic the natural make-up of microbes found in soil, whereas if you put a conventional fertiliser on, the microbial mix changes quite a bit. We are also looking at developing neural-network processing which basically uses sensors to tell us exactly what's happening in the effluent pond, so if something is going on the system can respond appropriately, for example, by stripping fertiliser out, maximising biogas or detecting feed wastage issues.
So it's not just the gas that has value? It's the solids as well?
We are trying to develop what we call a closed-loop system which incorporates the different aspects of water, energy and waste. For example, incorporating different technologies to potentially clean wastewater up to a standard where we may be able to feed it back to pigs. We've also got a really interesting project that's using phototrophic bacteria and chemotrophs to strip out the nutrients that are in the waste products to potentially create a feed source for animals or high value fertiliser. This is all happening due to the producers showing so much interest and asking us to take the research in this direction. It's pretty exciting. For me anyway! I get very excited over manure.
What group is driving your work in terms of waste management and innovation the most? Regulators, consumers or farmers/industry?
I think overall the industry is driving where regulations are going. We believe, from an industry point of view, that we have an obligation to address issues relating to cost, risk and revenue that may impact on the profitability and sustainability of our industries. We want piggeries to be sited, designed and managed so that they minimise impacts on the environment and are sustainable into the future. We believe we need to base everything that we do on the most up-to-date, industry-specific science. We want to stay ahead rather than fall behind and be driven by regulators pushing us in certain directions or using generic or other industry guidelines that may not be industry specific or commensurate with our risks. I think the pork industry has done a really good job of that very thing - staying ahead.
What about IP and things? With the amount of exciting stuff you guys are developing in terms of biogas and all this other technology, eventually other industries that are not even related to animals might be like, "We want a bit of that". Is APL about sharing or protecting its technology, or a bit of both?
We haven't really had any IP come out to date but basically we try and identify things that are going to benefit our industry and if there's an opportunity to collaborate with another industry together on similar issues, we'll try and do that as much as we can. In 2012, we developed and led the the National Agricultural Manure Management Program. That was us, chickens, eggs, dairy and feedlots. We've all got manure issues and they are all similar. By collaborating, we ended up with $8.5m worth of research and got some really significant results. For example, one finding was that composting and pelletising manures rather than stockpiling them prior to soil application could reduce greenhouse gas emissions by up to 70 and 80 per cent respectively.
How did it feel to receive the 2015 Women in the Environment Award?
I was truly honoured and quite shocked to be the recipient of this year's award, particularly as it was the first time it was recognised Australia-wide and I know there are a lot of amazing women doing wonderful things for sustainability in Australia. Its fantastic that WMAA and Blue Environment recognise and support women working in the waste and environmental sector. This sector covers many industries so for someone working in animal industries sector to be recognised was amazing. I'm really lucky to be working with a small but proactive and progressive industry. It's a really exciting and innovative area to work in.
It sounds like you have well and truly earned the Poo Princess title.
My Mum says that ever since watching the movie The Lorax by Dr Seuss I've just been interested in the outdoors, science and pollution. I actually remember watching the film when I was four years old and being devastated that the fish had to leave their river with their suitcases! My first job was in agriculture I'm still here 20 years later, passionate about Australian agriculture and poo.
To read more about Janine and her award, click here.