Blog
Innovative beef programme proves successful
12 August 2020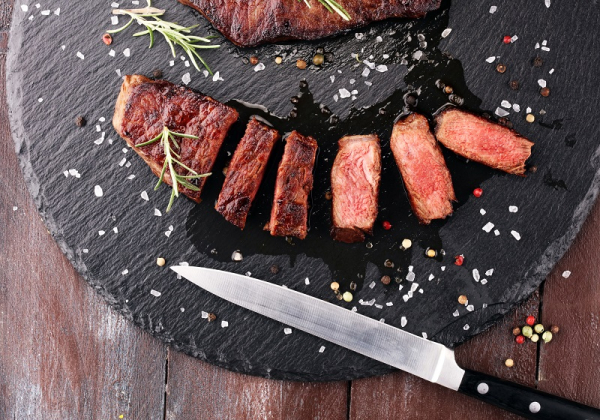 Marbled grass-fed beef from New Zealand is now presenting an attractive alternative to grain-fed beef from overseas.
The new product is the result of the Marbled Grass-fed Beef (MGB) programme, which ran in New Zealand from 2012 to 2019, with the aim of developing an alternative to beef produced from cattle housed in feedlots overseas for high value niche markets.
Prior to the MGB programme, New Zealand's meat production was dominated by lean grass-fed meat. Marbled beef is a more valuable product that is experiencing strong consumer demand internationally.
To introduce a New Zealand marbled product to the market, the MGB programme crossed Wagyu bulls (a breed of cattle originally from Japan) with dairy and Angus beef cows to produce cattle with "high-marbling genetics", developed rearing and grazing systems to support year-round growth of these cattle on pasture and created a "go-direct" marketing model with brand partners in select target markets.
Nimmo-Bell & Associates, a division of the Prime Group, teamed up with Primary Purpose Ltd to independently review and assess the MGB programme earlier this year and found it to be successful and worthwhile for all involved.
The programme fell under the New Zealand Government's Primary Growth Partnership (PGP) scheme and involved the Ministry for Primary Industries (MPI), Firstlight Foods Limited, Firstlight Wagyu (NZ) Limited and Brownrigg Agriculture Group Limited.
MPI provided funding assistance to support the research and development needed, with the other companies providing technical and operational inputs.
The assessment conducted by Nimmo-Bell, which is now available online, found that adding Wagyu to their operations had been profitable for the farmers involved.
Cross-breeding Wagyu genetics with dairy cows also meant that farmers did not end up with low value bobby calves; instead, they were producing with a higher-value alternative for a premium market.
For beef farmers, First Light grass-fed Wagyu produces higher returns than typical prime beef operations.
To read more about the MGB programme, including lessons learnt, click here.