Blog
A fascinating career providing advisory services to Pacific Island trust funds
19 November 2019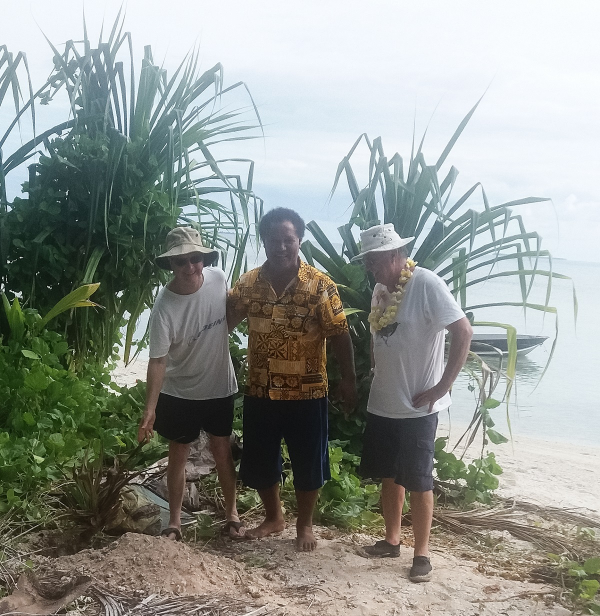 Dr Brian Bell, retiring Director of
Nimmo-Bell & Associates
, reflects on a fascinating career providing advisory services to trust funds in Tuvalu and other Pacific Island nations.
Image right: Investment Consultant and Tuvalu Trust Fund Monitor Jonathan Eriksen, left, Tuvalu's former Permanent Representative to the United Nations Afelee Pita and Tuvalu Trust Fund founding Advisory Committee Member Dr Brian Bell planting pandanus during 30th anniversary celebrations of the Tuvalu Trust Fund in 2017.
The Tuvalu Trust Fund was AU $26 million when it started in the 1980s, which – for an island population of just 8,000 people (now about 10,000) – "was a big deal", says Dr Brian Bell, one of the fund's original Advisory Committee Members.
New Zealand, Australia and the United Kingdom each put AU $8m into the original Tuvalu Trust Fund in 1987, which was topped up with contributions from Tuvalu and Korea.
Dr Bell says the trust deed encouraged the Government of Tuvalu to avoid touching the capital, which had to be maintained in real terms. Despite this, the Government has been able to draw down funds in 21 of its 33 years.
"You ask anybody in finance if there's something that could match that return on investment over 30 years and I don't think you could find it," Dr Bell says. "That's just incredible." The fund is now sitting at about AU $185m.
From his previous home base in Wellington, Dr Bell first visited Tuvalu in October 1987. After that, he went twice a year for 15 years. Each time, he and the other international advisors stayed about 10 days and immersed themselves in their roles monitoring the effects of the fund on the economy and giving economic advice to the country's finance ministry.
Dr Bell, who holds a PhD in environmental economics, became Director of the Tuvalu Trust Fund Board in 2003 – a role he held for over a decade. All up, he was involved 26 years. "I became more or less the institutional memory of the thing," he says. "I was sort of the anchor man, right up until about 2015."
David Hutton, an Australian member of the Advisory Committee since 2011, says Dr Bell made a significant contribution over many years. The trust fund gave the Government of Tuvalu a source of revenue to do the things it wanted in relation to things like education and healthcare.
"Like all good consultants, [Dr Bell] always worked in the best interests of the client — ultimately the Tuvaluan people."
- David Hutton, Tuvalu Trust Fund Advisory Committee Member
Improvements in living conditions and wellbeing noted at the fund's 30th anniversary in 2017 included better sources of power on the outer islands (i.e. kerosene replaced by a constant 24/7 electricity supply), allowing better lighting and refrigeration, mobile phones, computers and the use of power tools, better transport and communications and improved water supplies.
Dr Bell believes the trust fund model provides a good alternative to the perhaps more popular form of international development, where donors determine what happens to funds. In Tuvalu, the fund gave the country's people "a sense of economic self-reliance that they never had before".
"It was very good for morale and nation building. They didn't have to go cap in hand to donors. You have to bear in mind that Tuvalu is just nine coral atolls scattered around hundreds of nautical miles. It has no natural resources, only a fishery."
"Trust funds give cash-strapped governments revenue for their priorities — not the priorities of donors. As long as the funds are structured well, not much can go wrong."
- Dr Brian Bell, former Tuvalu Trust Fund Advisory Committee Member
Dr Bell says as well as facilitating trust funds, New Zealand and Australia (and Japan) have been instrumental in helping Pacific Island countries set up methods of securing better revenue from resource rentals from international fishing companies. This was achieved through the Pacific Islands Forum Fisheries Agency, made possible through the countries' aid programmes.
Where originally revenue was based on fishers' reported catches, with levies on tonnage (often under-reported), it is now based on a 'vessel day' system, where companies must pay a fee for every day they spend inside Tuvalu's exclusive economic zone.
"Once they put in this vessel day system, AU $270,000 a year (in fisheries revenue) became $11m," Dr Bell says. It now averages over $35m. "It just shows you the level to which the companies from these developed nations were exploiting these tiny little nations from the Pacific." Tuvalu has used a significant amount of this extra money to augment the value of its trust fund.
Dr Bell says it was a privilege to be involved with the Tuvalu Trust Fund for so long and an amazing experience for him professionally because it also led on to other interesting assignments. He and other international advisors provided an important role in maintaining good governance practices to take care of the funds, so that there were checks and balances around the use of the money.
The model used in Tuvalu was more of less "replicated across the Pacific", he says, including in Tuvalu's outer islands (the Falekaupule Trust Fund), Tokelau and Niue. The Falekaupule Trust Fund, which was designed to help provide local training and maintenance of assets on the outer islands, started with AU $9m and has now grown to $35m.
Dr Bell was also involved in the structuring of a conservation fund in Fiji and worked with finance ministers from small Pacific Islands states under Asian Development Bank contracts to develop strategies for increasing access to climate change financing. He says the Pacific Island projects provided a great balance to his other advisory work in natural resource economics.
As an agricultural economist that moved more into conservation, two thirds of his work was New Zealand-based, mainly focused on the economics of catchment development and conservation throughout the country, i.e. improving environmental outcomes while retaining viable rural communities. He says he found it good to have two uncorrelated areas of work, which provided an interesting variety of challenges and diversification of income.
Dr Brian Bell's work in Tuvalu over 26 years was funded by the New Zealand Ministry of Foreign Affairs and Trade. For more information on Nimmo-Bell & Associates, visit the website.